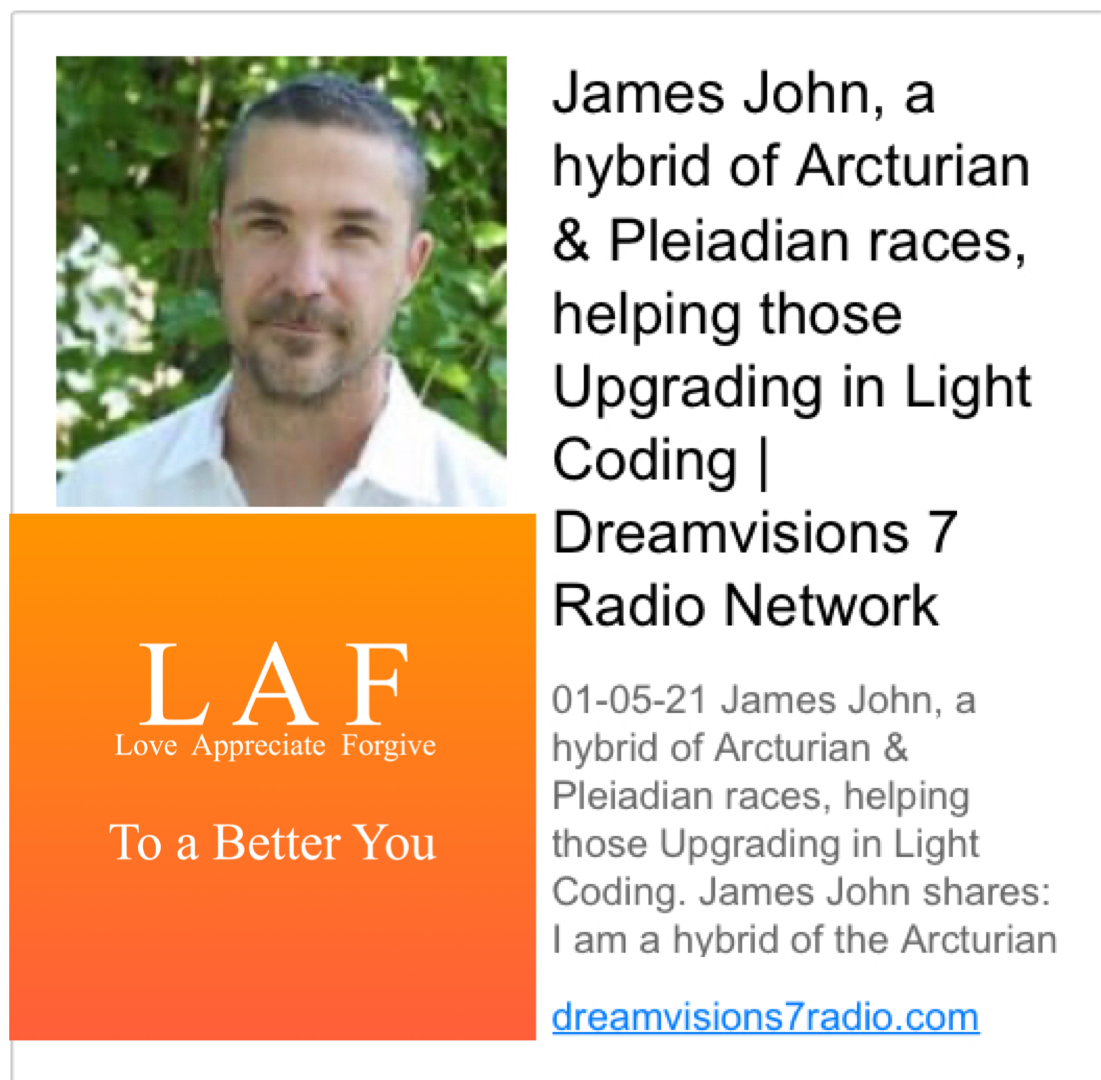 01-05-21
James John, a hybrid of Arcturian & Pleiadian races, helping those Upgrading in Light Coding
James John shares: I am a hybrid of the Arcturian and Pleiadian races. I am here to help those upgrading in light coding. You can receive your light coding through my energy, speaking and patterns through your conscious and subconscious belief systems. James John is a spiritual advisor who teaches LAF ~ Love, Appreciation and Forgiveness, as well as being an international speaker, author, healer, messenger and founder of the LAF Kids Club. Despite "having it all", James John found himself alone in the darkness of a deep depression. He describes himself as being beyond suicidal and feeling unworthy to live. In his darkest moment, he experienced a massive shift in consciousness which completely transformed his life. James John became aware of his true nature, the roll of the ego and how everything is connected. He founded LAF ~ Love, Appreciate, Forgive in 2015 to help spread his message of self-love, forgiveness and surrender as a path to inner peace and unconditional love for all things.
-Learn more about Deborah here: www.lovebyintuition.com
Visit our home page a sign up for our news letter at; http://www.livinglaf.com/
Please check out our Youtube at: https://www.youtube.com/channel/UCyNZGBMdVJOhKwrZAuHqWQw
Click that "SUBSCRIBE" button and "NOTIFICATION" bell, so you always know when our next video is out. You can also join our podcast and listen on the go at; https://lafwithus.podbean.com/
Sending you all big hugs and tons of LAF's Sharon & James xo "LAF with US" is a bother/sister duo who talk about living your best self in today's world. Together with our guests, we offer insight and tools for living a more fulfilled life. Topics include: spirituality, eating, exercising, healing, LAF, music E.T. 5D and much more.. Oh, and never underestimate the power of a good laugh.
#affirmations,#peace,#life,#wisdom,#lawofattractionquotes,#selfcare,#motivationalquotes,#goodvibes,#faith,#yoga,#entrepreneur,#loveyourself,#higherconsciousness,#thirdeye,#higherself,#god,#affirmation,#grateful,#raiseyourvibration,#forgive,#forgiveness,#positivethinking,#abrahamhicks,#spiritualgrowth,#hugs,#ego,#fun,#funny,#lafwithus,#laf,#appreciate,#appreciation,#smile,lawofattrection,#download,# downloads,#upgrade,#energywork,Arcturian,Pleiadian,hybrid,#lightcodeing,#decoder,#aliens,#alien